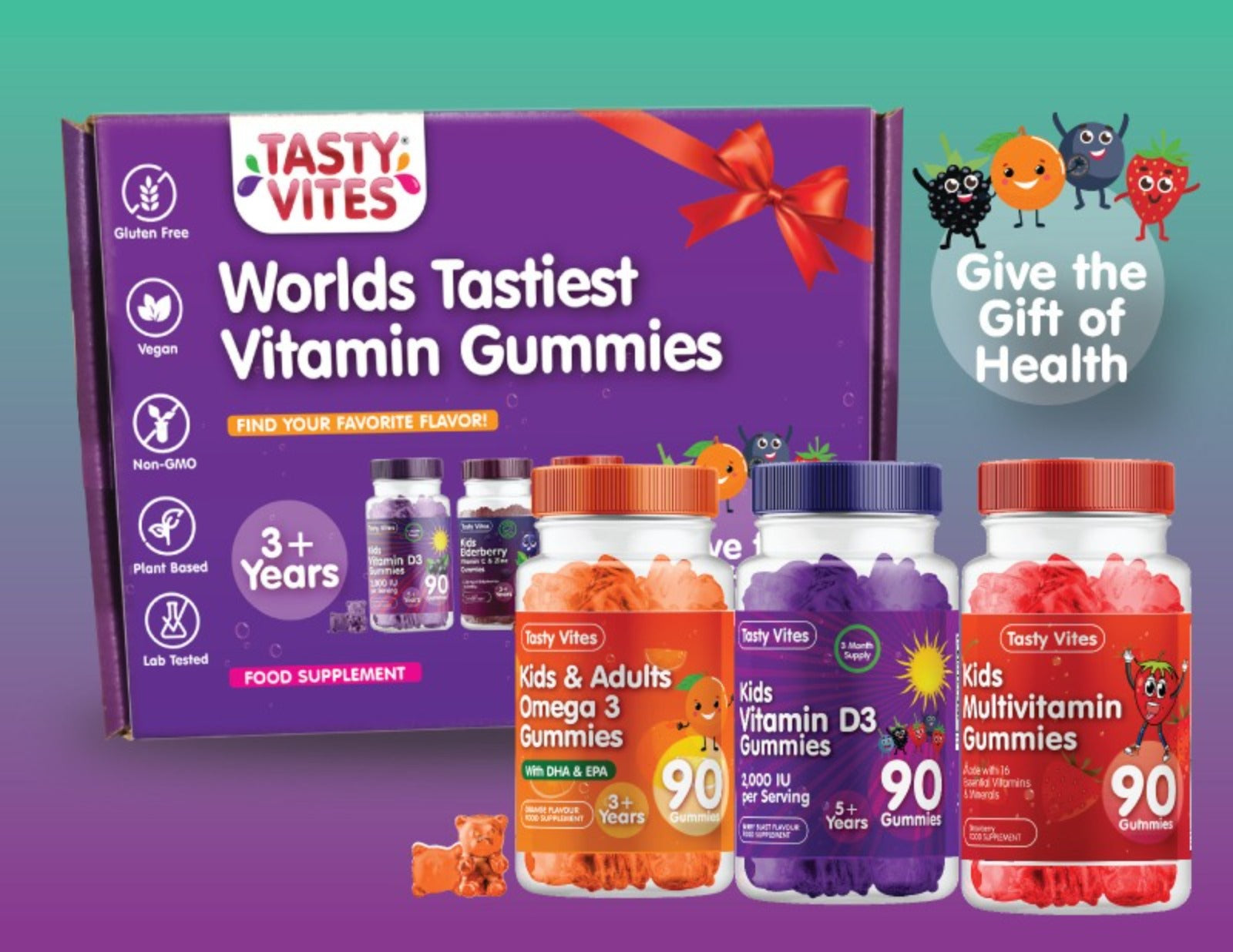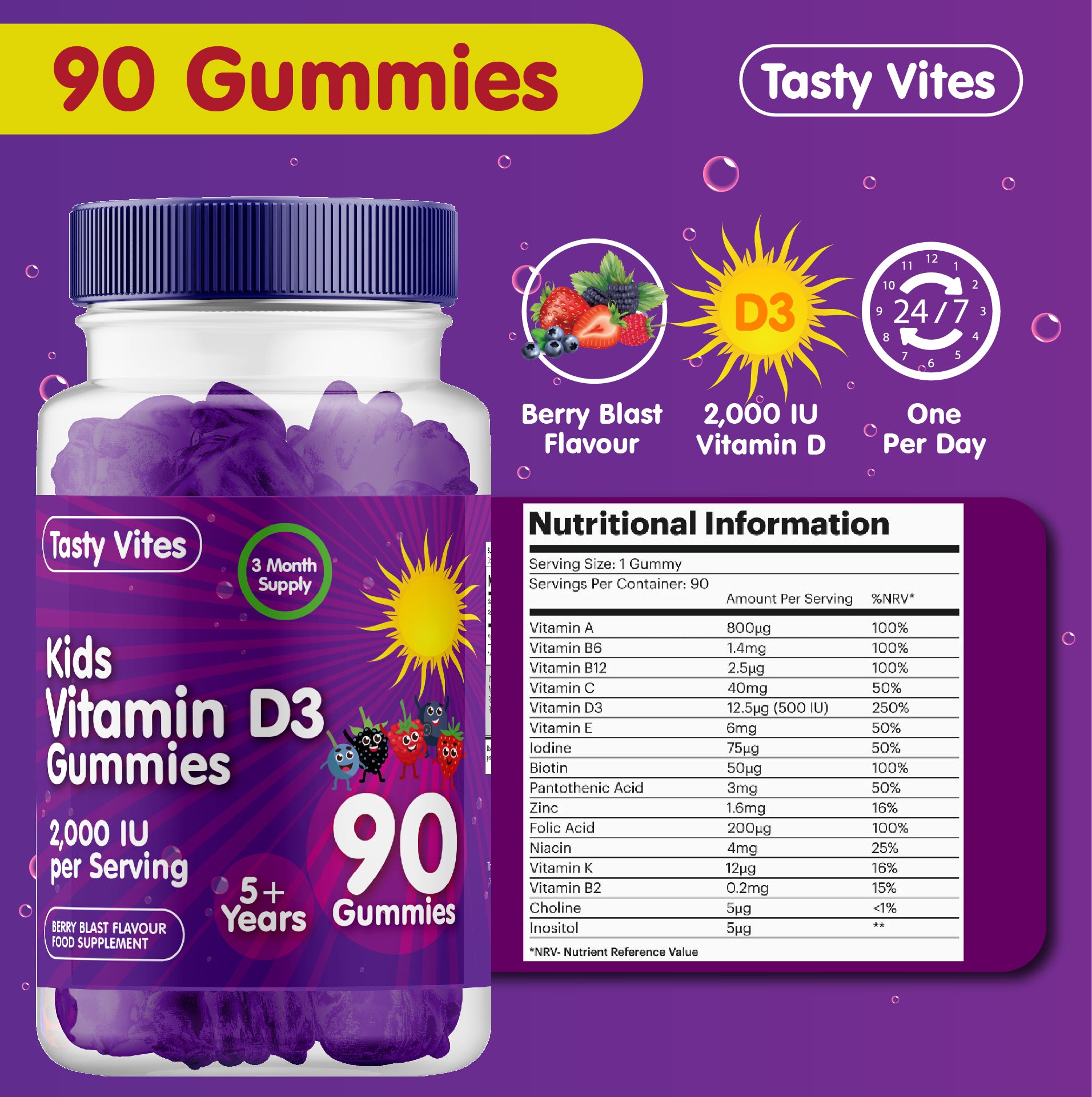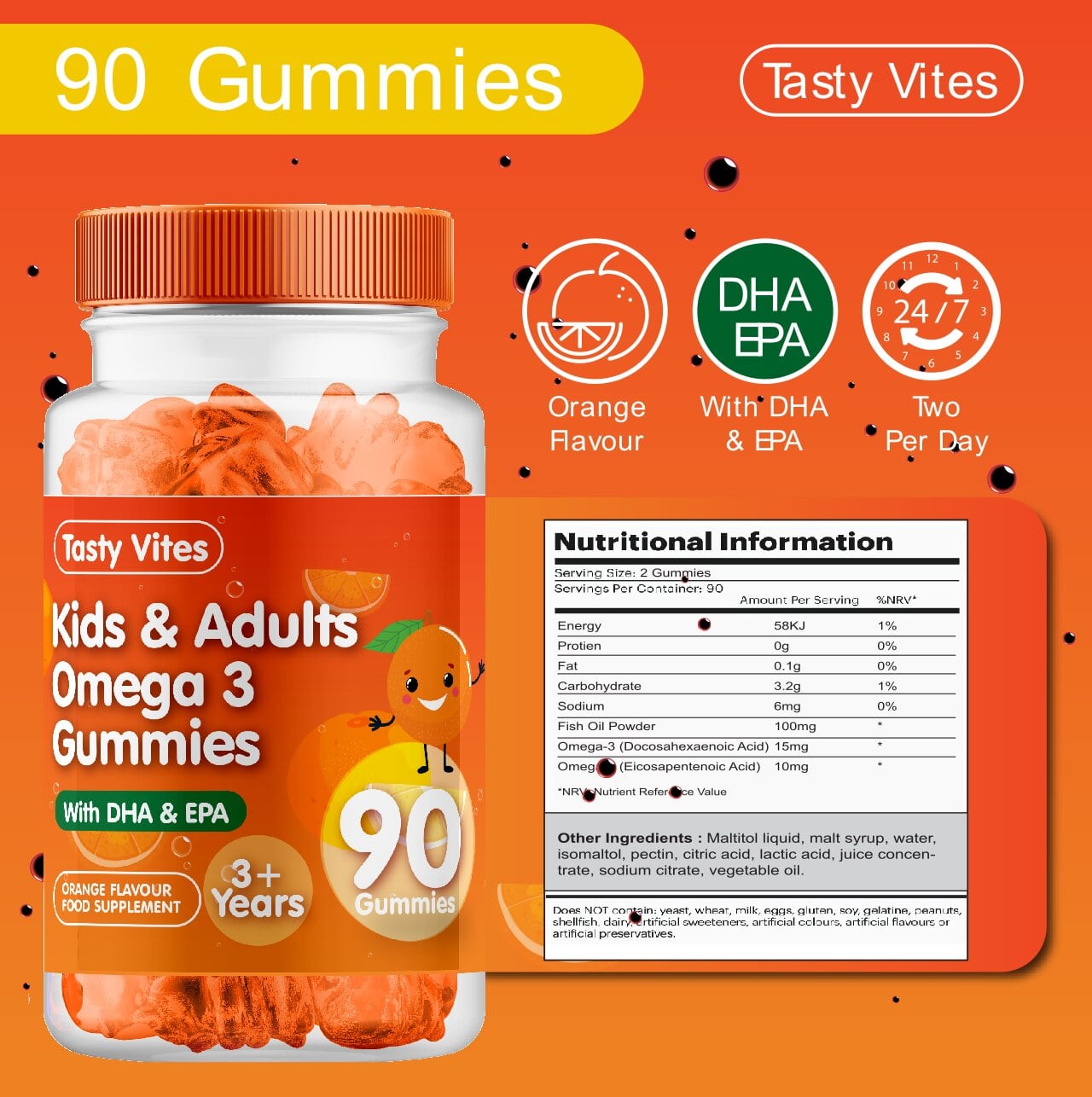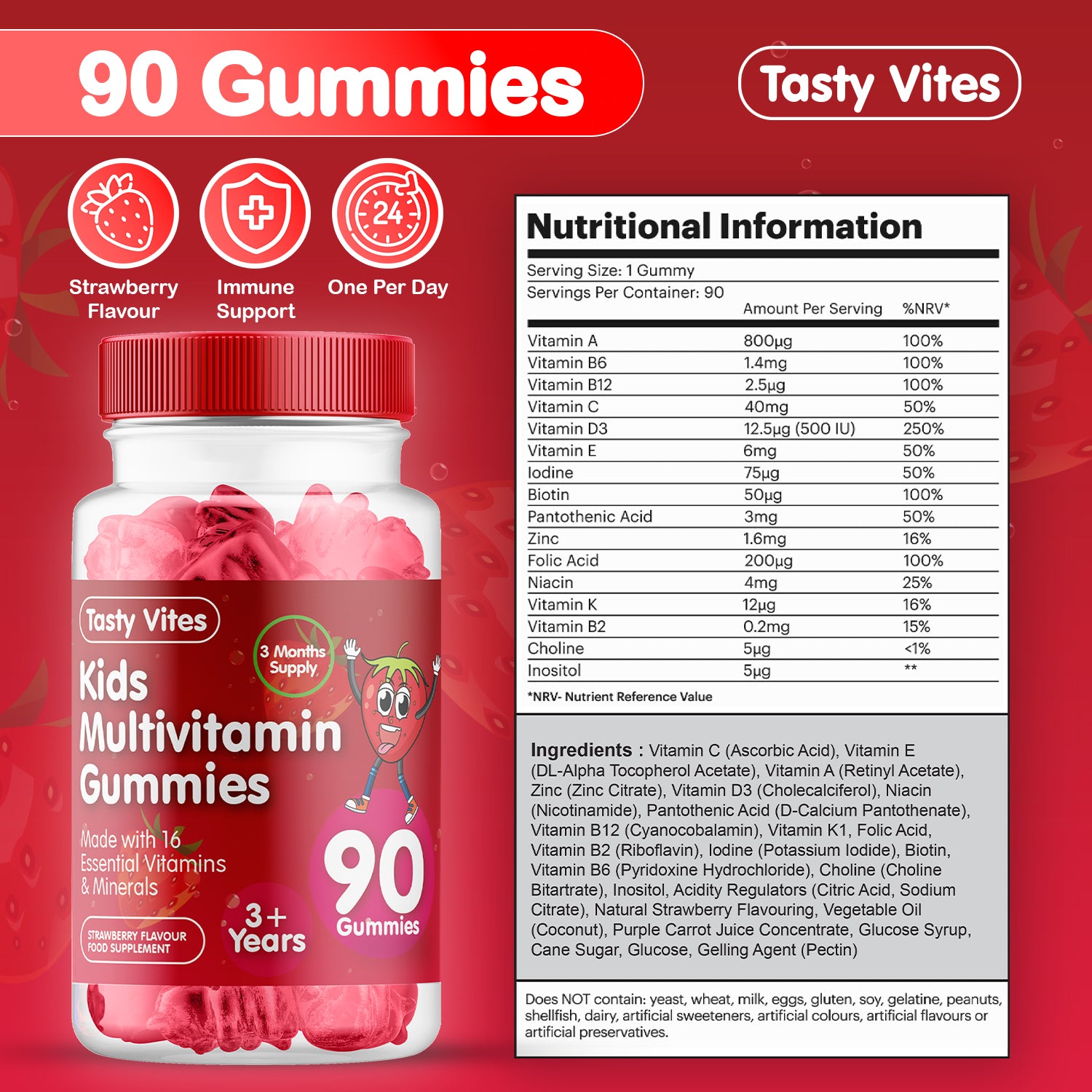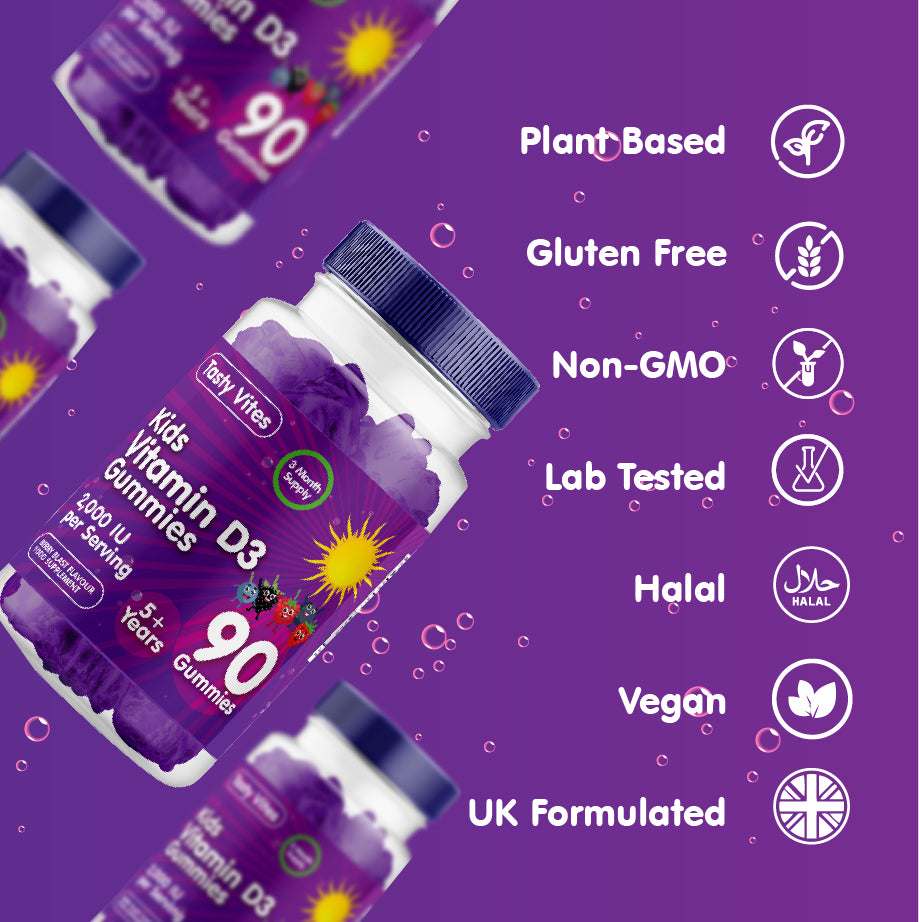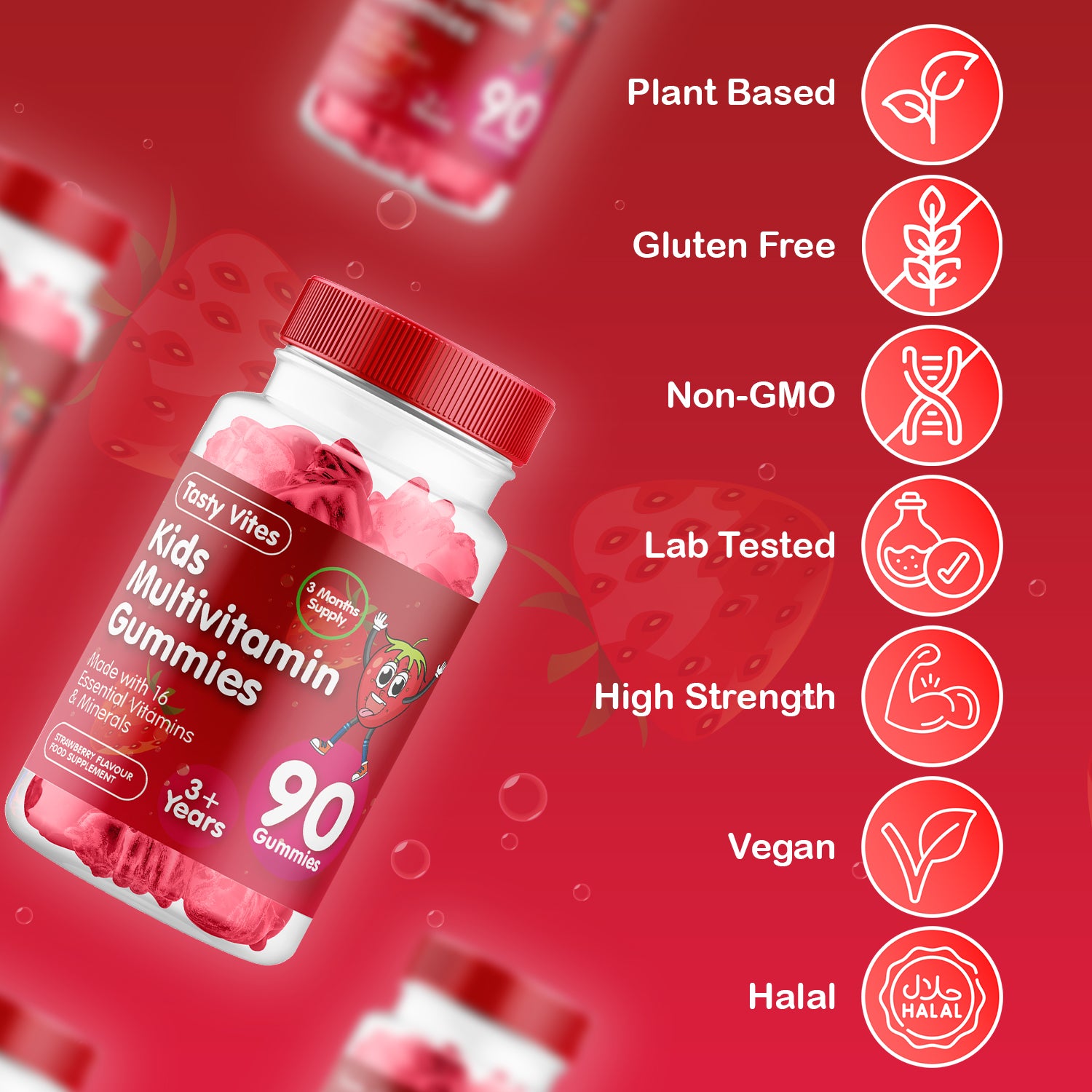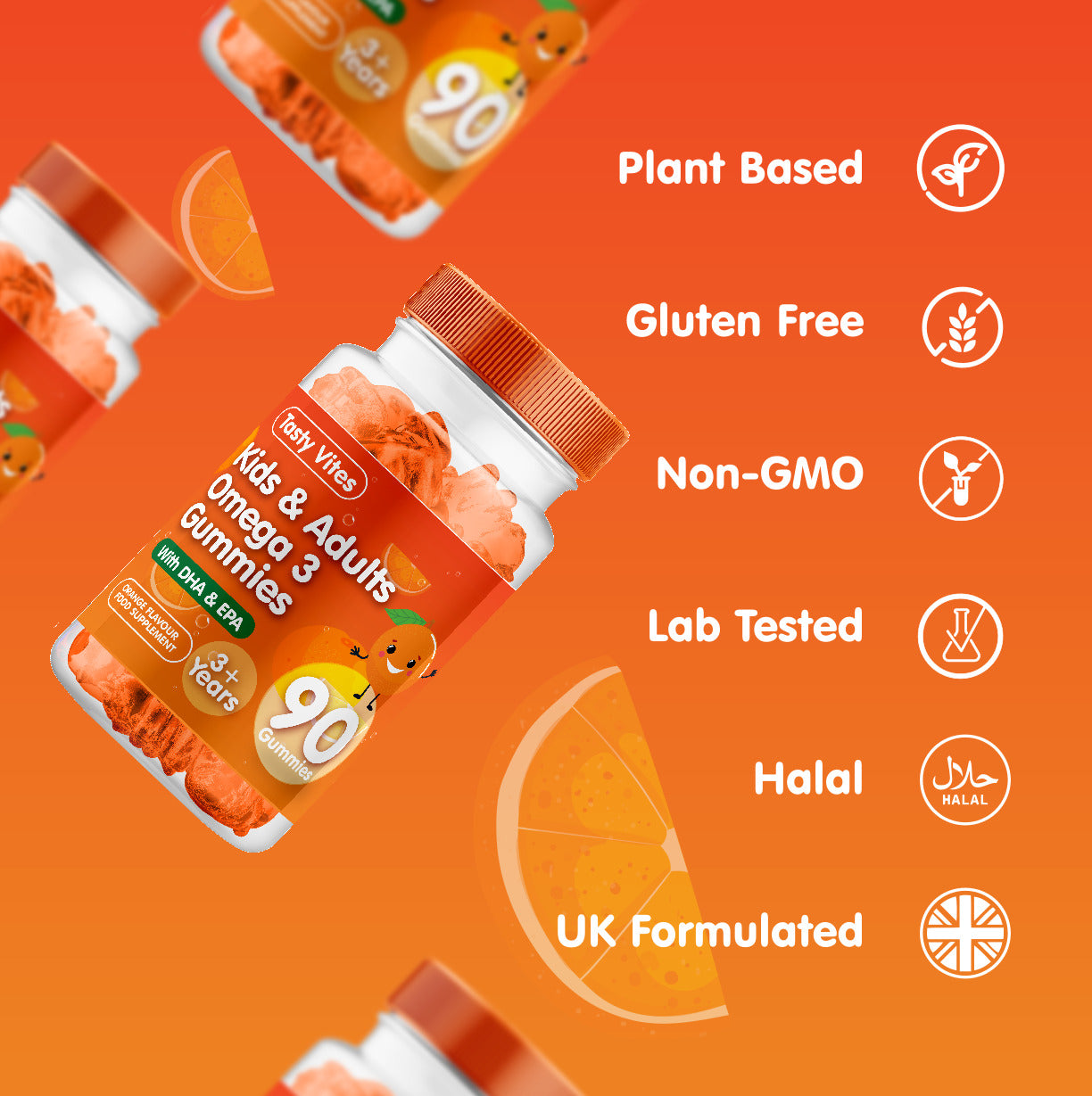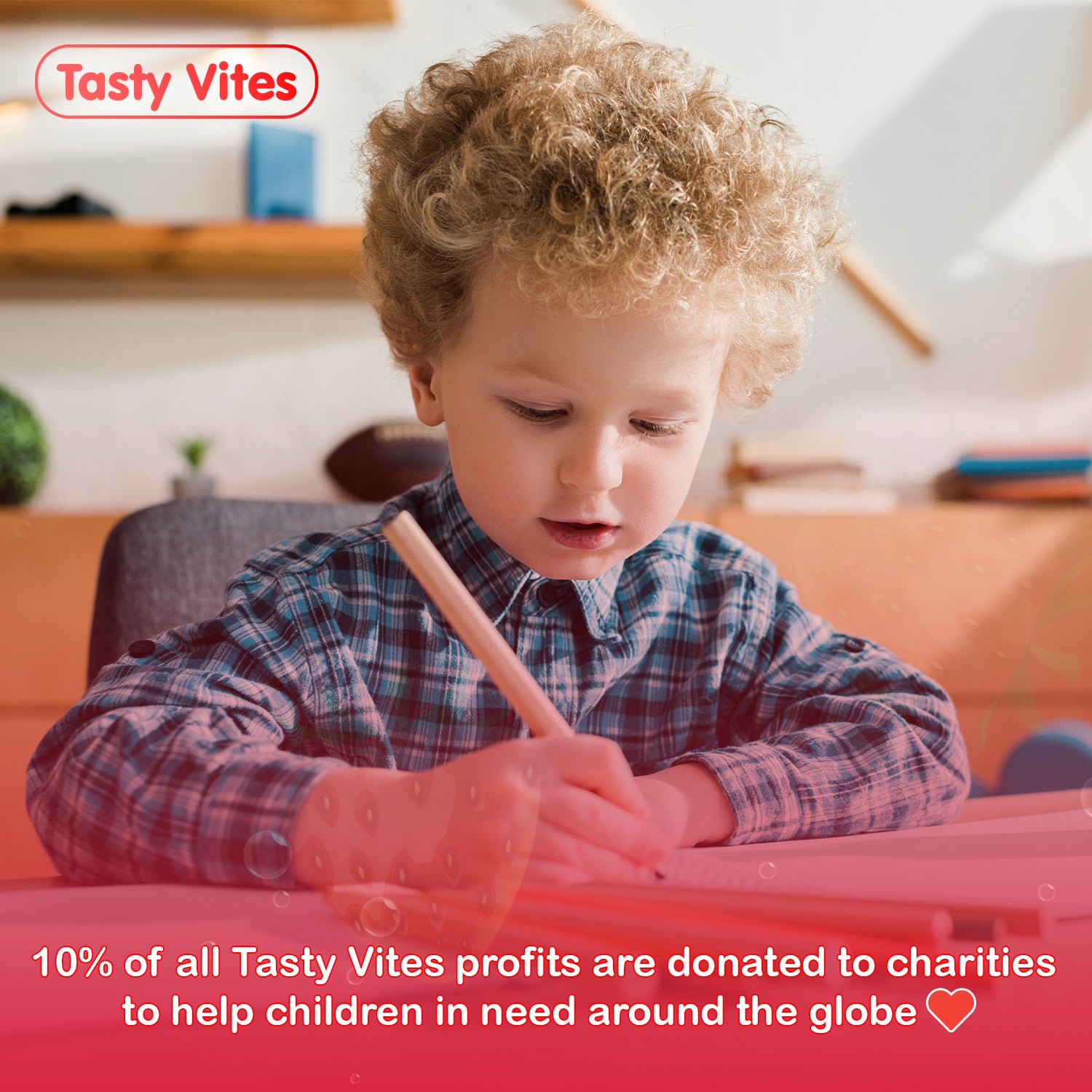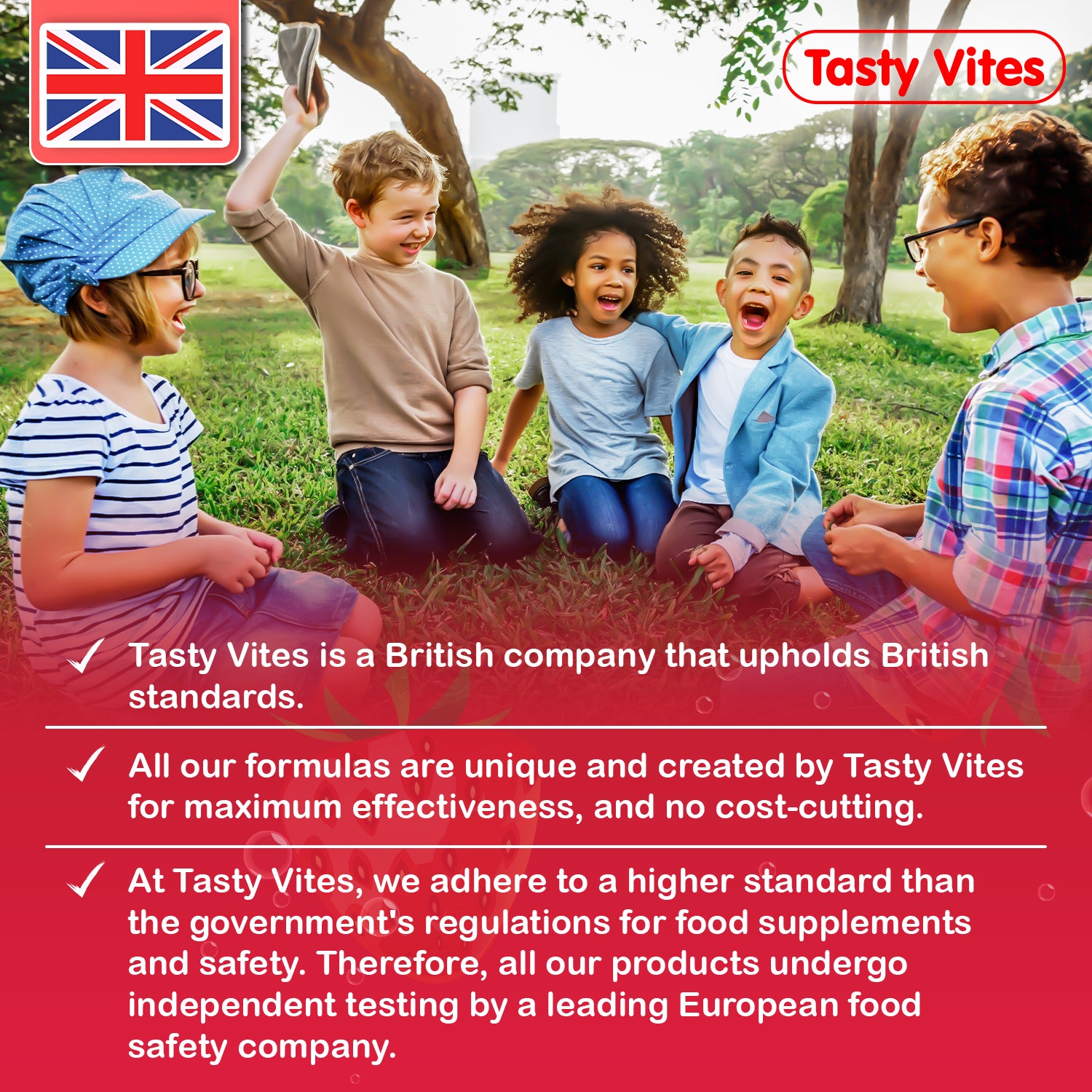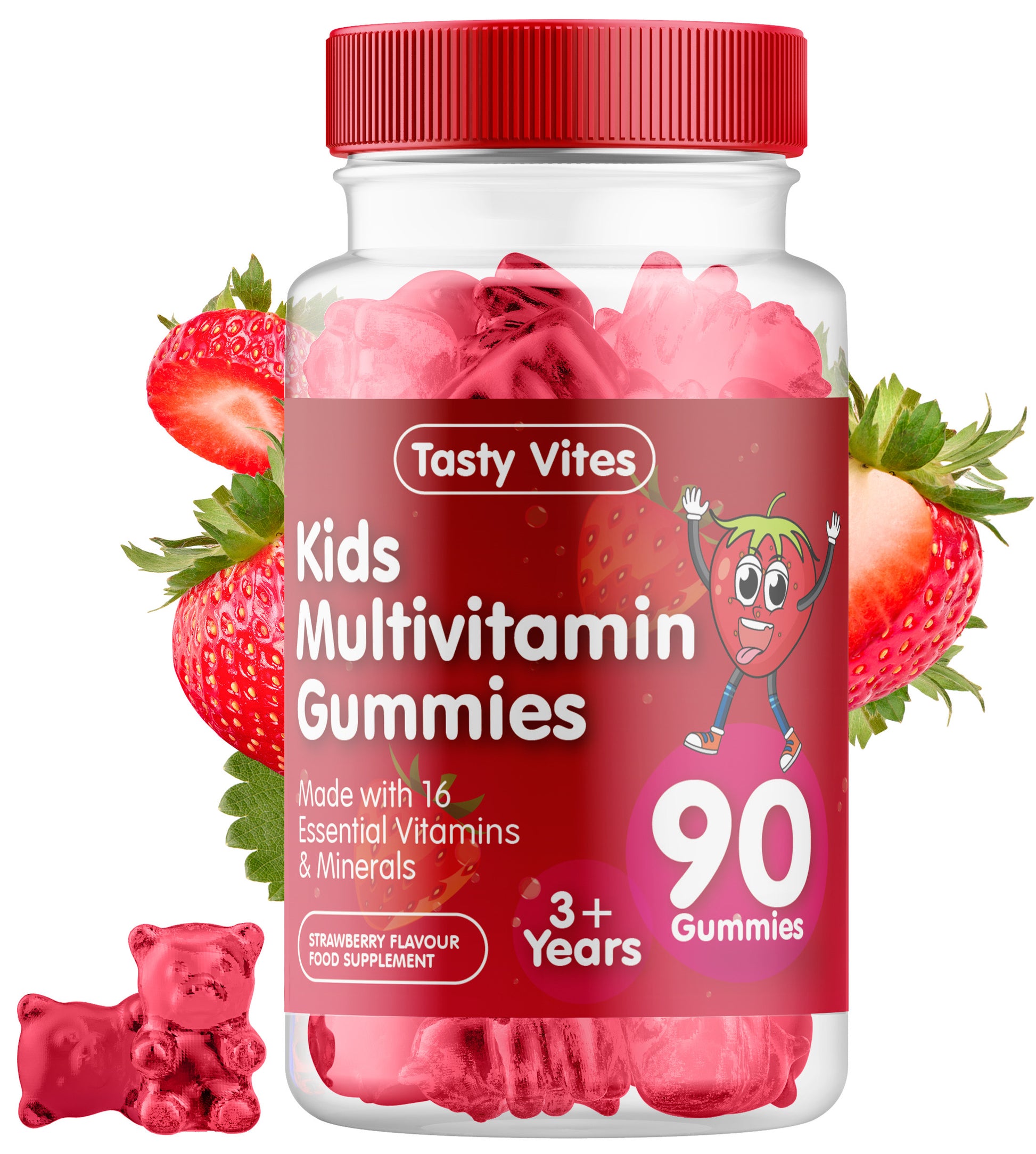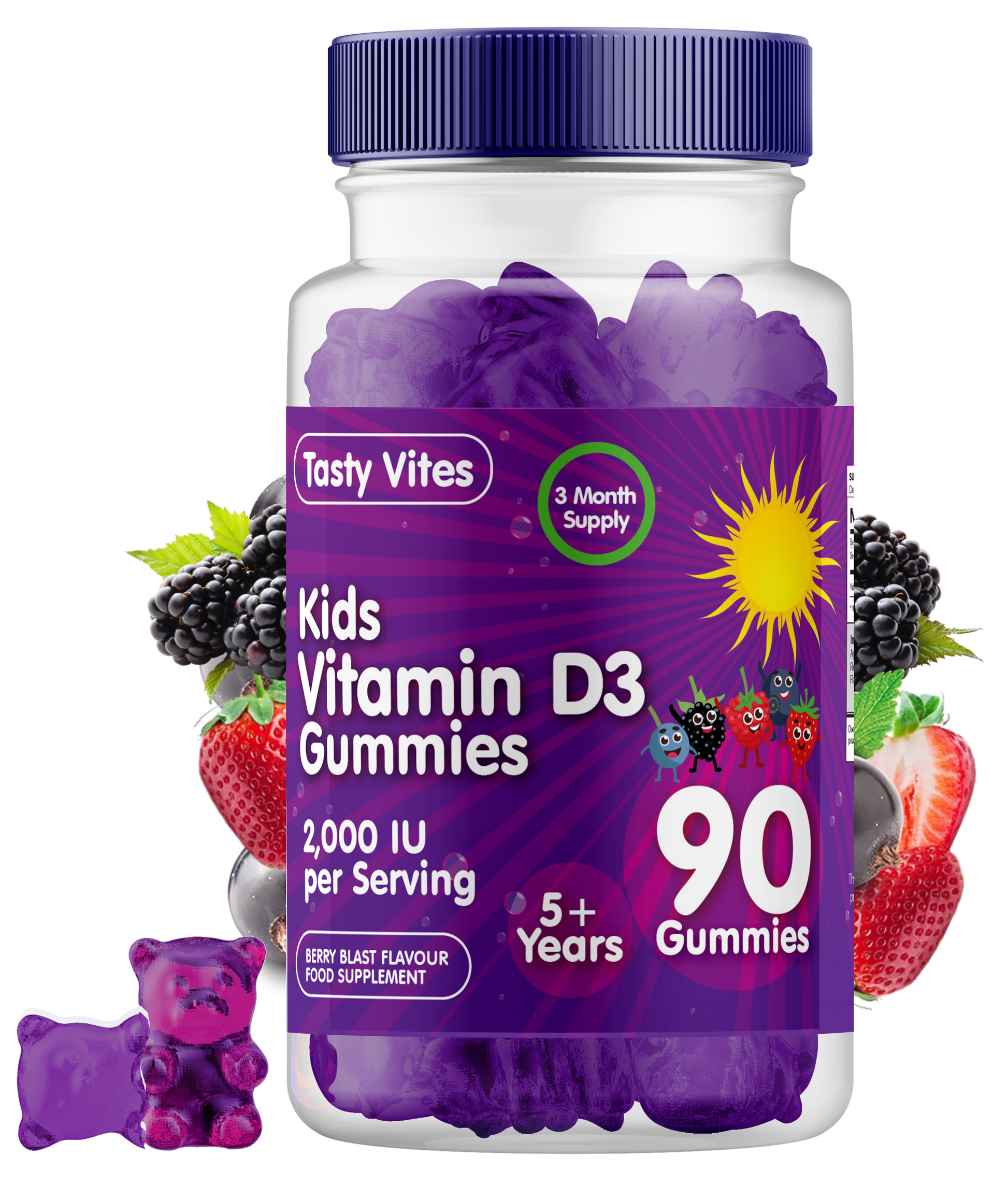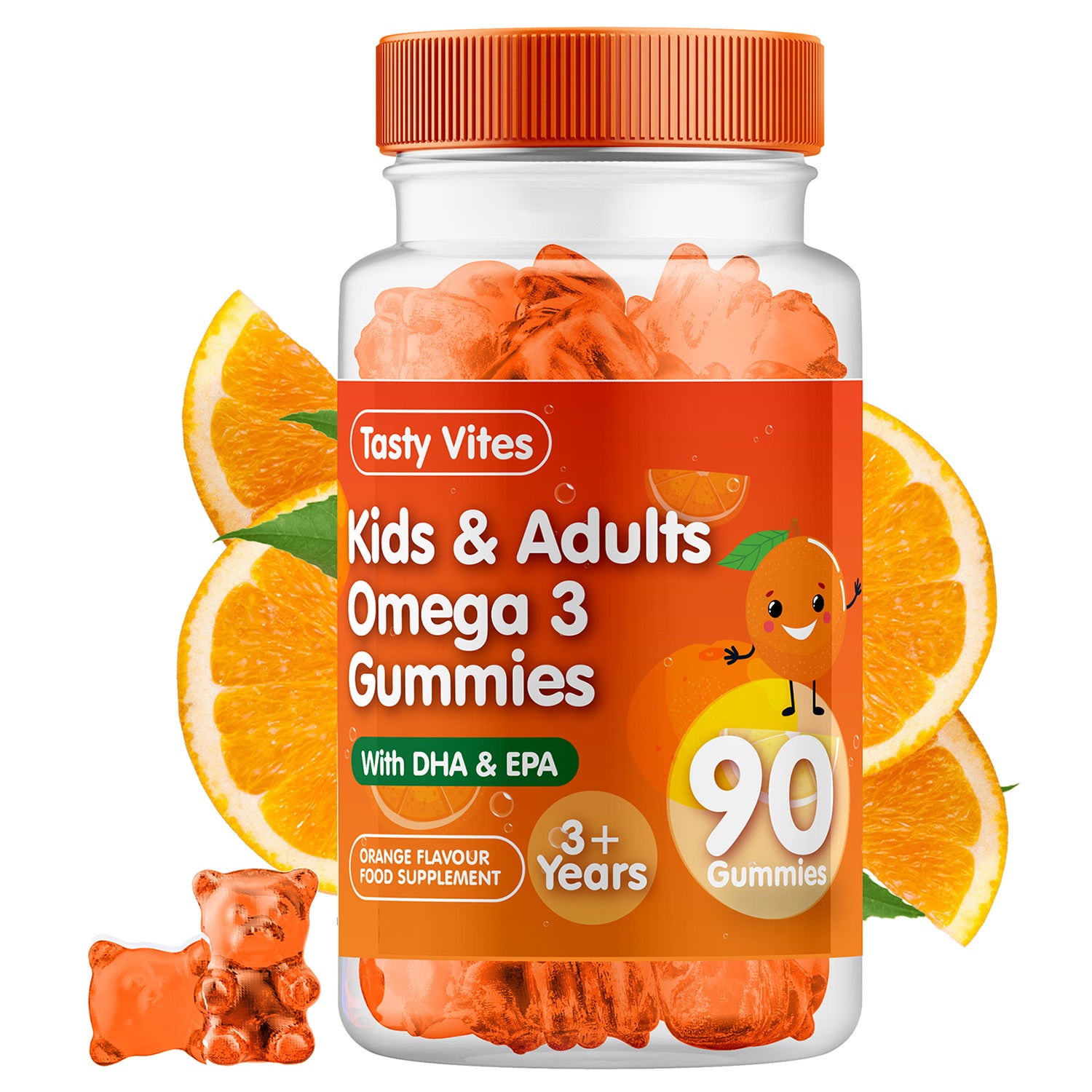 Kids Vitamin Gift Hamper - Multivitamin, Omega 3 & Vitamin D Gummies Christmas
Sale price
$39.00
Regular price
$52.00
Tax included.
Kids Vitamin Gift Hamper - Multivitamin, Omega 3 & Vitamin D Gummies Christmas
Sale price
$39.00
Regular price
$52.00
Product description
Shipping & Return
   The Perfect Christmas or Birthday Gift for kids aged 3-18 Kids !
Each Vitamin GIft Box contains 3 bottles of Vitamins:
- One bottle of Tasty Vites Multivitamin Gummies Strawberry Flavour
- One bottle of Tasty Vites Omega 3 Gummies Orange Flavour
- One bottle of Kids Vitamin D Gummies Berry Blast Flavour
- Each bottle contains 90 multivitamin gummies which is enough for 3 months usage. Suitable for Kids and Adults
- Free UK delivery, dispatched with in 24 hours. 
- 100% Refund Guarantee 
 Please see listing images for further details and the reasons why Tasty Vites is the right choice for your child.
                                 ✅ Perfect Gift ✅ FREE DELIVERY ✅ UK BRAND
WHAT MAKES TASTY VITES MULTIVITAMIN SUPPLEMENTS SPECIAL?
This Tasty Vites comprehensive formula includes all the essential vitamins and minerals needed to support a child's daily health and well-being. Our Soft Multivitamin Gummies are a tasty way for your kids to get the essential nutrient they need every day. Each yummy orange fruit softie contains 16 essential vitamins including Vitamin A, C, D, E, K, B12, B6, and B2, which are known to support various bodily functions such as reducing fatigue, maintaining an immune system, promoting bone growth, regulating blood cell production and other key physiological processes. Additionally, these Kid's gummies are fortified with essential minerals such as zinc, iodine, folic acid, pantothenic acid, niacin, choline, biotin, and inositol to provide further support for optimal growth and development in children.
Tasty Vites Multivitamin Gummies for kids are a popular choice among parents because of their delicious orange flavor and convenience. These Vitamin gummies are easy to chew and swallow, making them a fun and enjoyable experience for children
OTHER INGREDIENTS USE IN MULTIVITAMIN SUPPLEMENTS:
Vitamin C, Vitamin E, Vitamin A, Vitamin D3, Vitamin b12, Vitamin b2, Vitamin b6, Vitamin K1, Niacin, Pantothenic Acid biotin, choline, inositol, Acidity Regulator, Natural Flavour, Vegetable oil, Purple Carrot Juice, Glucose Syrup, Sugar cane, Glucose, Gelling agent.
FEATURES AND SPECIFICATIONS:
Delicious Vegan Strawberry Flavor
Easy to Chew and Swallow
Support Bone Development
Certified for Safety and Quality
Support a Healthy Immune System
Support Healthier Looking Skin and Hair
Meets UK and EU Legislative requirements
                              Omega 3 Gummies - Two A Day - For Kids & Adults 
✅
 Delicious 
✅ 
GMO Free 
✅ 
Gluten Free 
✅ Trusted UK Brand
✔

 Our delicious Orange Flavour Omega 3 Gummies come in a bottle of 90, perfect for both kids and Adults from age 3+
✔

 

 Made with both DHA & EPA to ensure you get a complete dose of your omega 3 needs.
✔ COMMITTED TO QUALITY: We carry out a rigorous and demanding quality control, all our products are tested by independent and internationally recognized companies.
   Vitamin D Kids 2000IU - Natural Berry Blast Flavour Gummies - 90 Vitamin D Gummies (3 Month Supply) - One A Day - for 5 Years+ Children 
                      ✅ Vegan ✅Vegetarian ✅ GMO Free ✅ Gluten Free ✅ Halal
✔ WHAT IS VITAMIN D3? Vitamin D3 is one of the forms or compounds of vitamin D, a nutrient that the body produces through the skin when exposed to sunlight. Due to a range of reasons such as a lack of sun expose or just some peoples low absorption rates, there are adults and children who have more difficulty than others in reaching the recommended amounts of vitamin D, which helps with many things such as immune support and bone health. To help you get this vitamin, you'll find a powerful (and delicious) answer in our tasty Berry Blast flavour Vitamin D gummies! 
✔ HELPS THE IMMUNE SYSTEM: Our Vitamin D chewable gummies contain a total of 50 mcg (2.000 IU) of vitamin D3 in each gummy, contributing to the proper functioning of your childs immune system.
✔ HELPS TO MAINTAIN BONES: Our tasty Vitamin D gummies enriched with vitamin D3 help your growing kids to achieve this, in addition to contributing to the absorption of calcium and maintaining normal blood levels, along with many other benefits.
✔ COMMITTED TO QUALITY: We carry out a rigorous and demanding quality control, all our products are tested by independent and internationally recognized companies.
( Also suitable and just as tasty for adults ! )
                             ✅ FREE DELIVERY ✅ UK BRAND   ✅ 3 MONTHS SUPPLY
CUSTOMER SUPPORT:
Contact us if you have any questions regarding our Multivitamin, and we will reply to you as soon as possible.
Shipping cost is based on weight. Just add products to your cart and use the Shipping Calculator to see the shipping price.
We want you to be 100% satisfied with your purchase. Items can be returned or exchanged within 30 days of delivery.